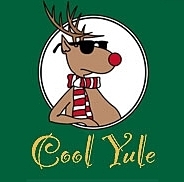 Bored with hearing the same old Christmas songs every year? Then listen to Cool Yule for some refreshingly different festive fare.
John Brotherton presents an alternative take on seasonal and festive music, featuring an eclectic mix of genres from across the decades and from around the world.
Cool Yule replaces The World Folk Show and Radio Daze Reggae Show during December.
Upcoming programmes
Past programmes
Go to the listen again page to hear a past programme.
Regular presenters
John Brotherton